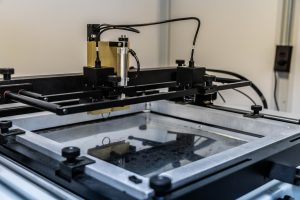 The Carbondale Technology Transfer Center (CTTC) is looking for entrepreneurially spirited individuals who have an interest in starting their own circuit board production company utilizing equipment already in place at the Center's Electronics Facility.  In addition to use of the equipment, we will provide a comprehensive start-up package that includes training on the equipment, use of all services connected to 30,000 square foot incubator facility, access to our partner organizations in the economic development community, and assistance with developing business plans and marketing plans.  In addition, we will provide an in-kind grant for use of the equipment at no charge for a minimum of six months to allow time for training on the equipment as well as for the entrepreneur to secure an initial customer base.
The CTTC Electronics Facility is an environmentally controlled, small-scale prototyping and manufacturing environment that has the equipment and facilities engineers and electronics entrepreneurs require to develop PCB based electronics solutions. The pick-and-place system is suitable for prototyping and small-scale runs of electronic circuit boards. The Electronics Facility includes the following contemporary equipment supplied by DDM Novastar, a leading US manufacturer of PCB assembly equipment:
There is also workspace, complete with microscope, for inspection and rework.  A 3D printer has been recently added to the Electronics Facility for prototyping and low rate production of housings, enclosures, and fixtures that may be complementary to circuit board packaging.
This is an outstanding opportunity for aspiring entrepreneurs to launch a business in the electronics industry without the burden of a substantial investment in equipment and facilities.  Our research shows there is a significant market opportunity for domestic sources of short run PCB based electronics solutions, especially with reliable, fast turnaround times.
Interested individuals should contact Paul Browne, CTTC Executive Director, via phone or e-mail at  570-282-1255 or paul@cttc.org.